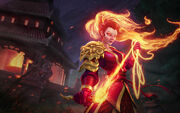 The Tao-Ahasna are a remote tribe settled in Tempra's far east. Little is known of them, except that they have a peculiar affinity for fire. Legend states that the spirit of Ahasna and its people are the only thing preventing Tempra's frozen west from engulfing the entire plane.[1]
↑ Jin She Tao-Ahasna's Spark. S2 Games, accessed on 2014-10-15
Ad blocker interference detected!
Wikia is a free-to-use site that makes money from advertising. We have a modified experience for viewers using ad blockers

Wikia is not accessible if you've made further modifications. Remove the custom ad blocker rule(s) and the page will load as expected.